I am Daniel Bristot de Oliveira,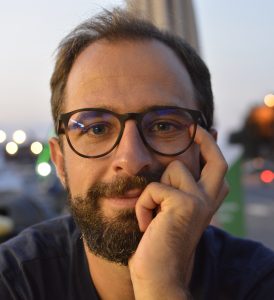 I am a computer scientist specializing in the Linux kernel and real-time systems. I have 10+ years of experience in the development of embedded and real-time systems. My current position is Principal Software Engineer in the real-time kernel team at Red Hat.
I am also a Ph.D. candidate in an international Ph.D. in Automation and Systems Engineering at Universidade Federal de Santa Catarina (Brazil) and in Emerging Digital Technologies – Real-time and Embedded Systems at the Scuola Superiore Sant'Anna (Italy). I am part of the Retis Lab. My advisors are Prof. Rômulo Silva de Oliveira & Prof. Tommaso Cucinotta.
Personal life:
I was born in Santa Rosa do Sul, Santa Catarina, in southern Brazil. But I lived the major part of my Brazilian adult life in São José/Florianópolis. That is my home in Brazil. I was born in a family of Italian (BL/BG) and Portughese (Azores) immigrants. That is why I have such strong connections with Italy and that is the reason for my dual-citizenship. I live in Pisa (Italy) nowadays, and I am happy here. It is a small town with a millenial culture of science, and that is my home in Italy since 2016. I do not consider myself half-Italian/half-Brazilian: I am fully both at once. And as I never lived more than 10km away from the sea… I know there is a little açoriano in my soul as well.
Do expect me to play the "Doctor," my dream was to be a trucker. I do not have a preferred computer brand, but I do have a favorite truck brand: SCANIA! My hobby is cycling, and well, I am a proud Bianchista! Yeah, I always was a Red Hat fan boy, nothing to hide. I am a simple guy, and I love a simple life.
When I am not in front of the computer, I am riding a road bike around either Tuscany (ITA) or Santa Catarina (BRA).
On IRC my nick is bristot on OFTC (channel #linux-rt) and FreeNode (channel #freebsd-br).
I am both Brazilian and Italian (and so I have 9 FIFA world cup).
I am a proud owner of a 1958 Willys Overland Jeep M38A1 (which is the car I used when I was a teen).